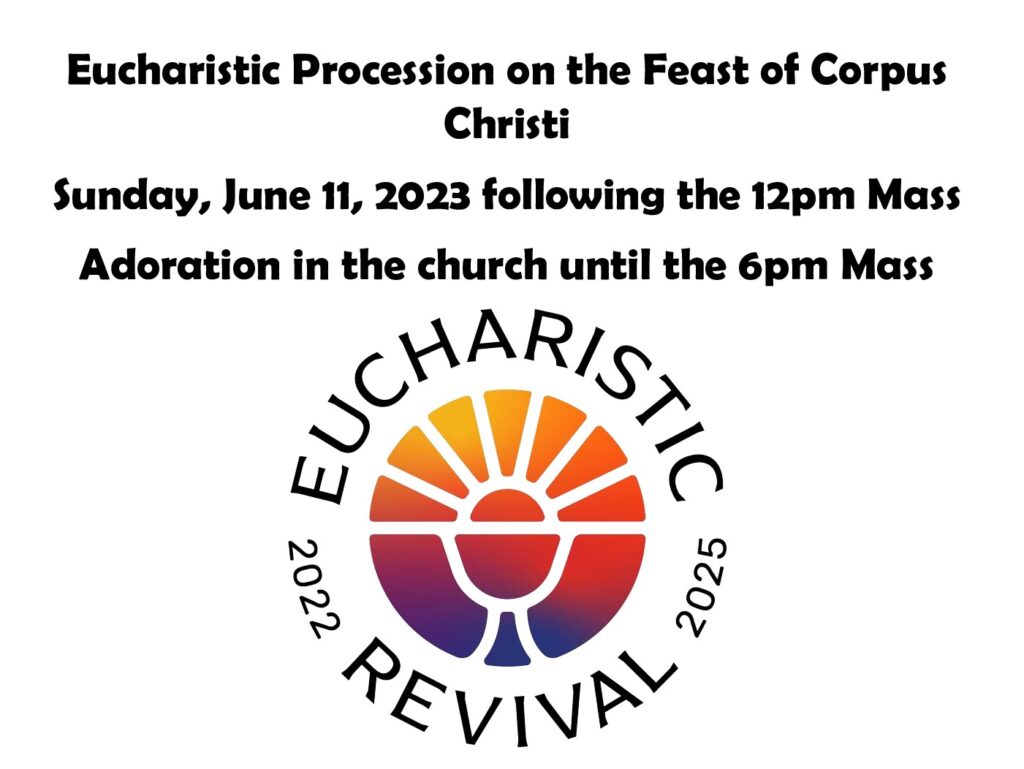 ---
Parish Nursing Ministry News for June: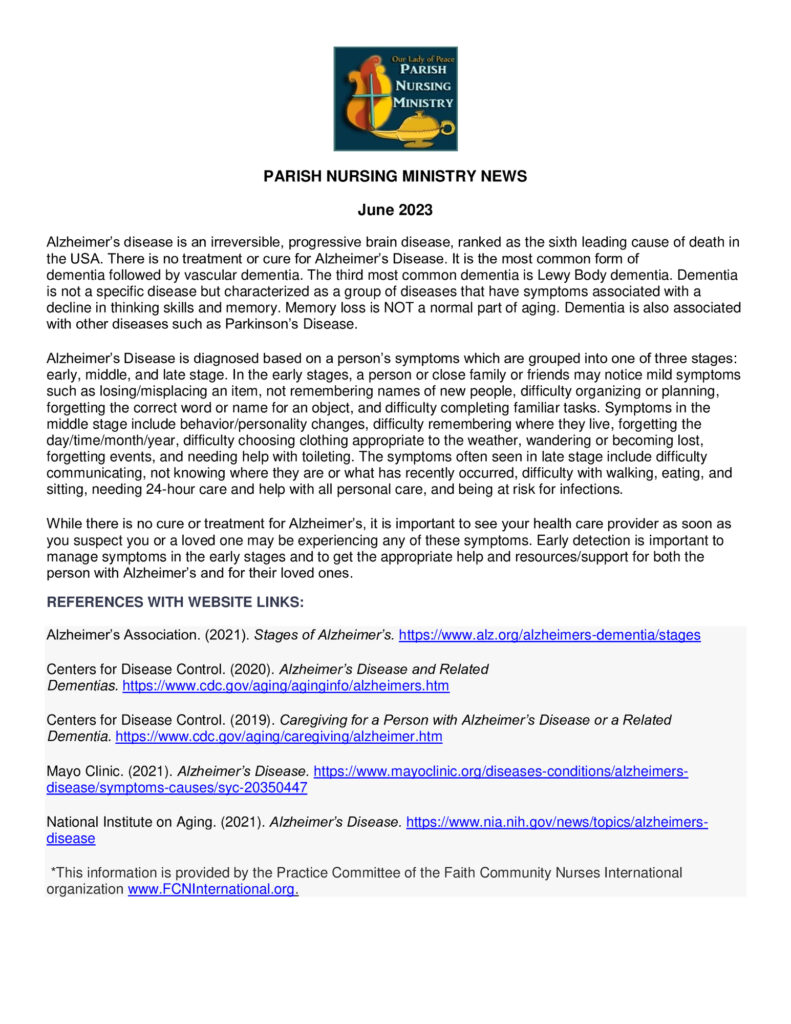 ---
You are invited to an evening of Eucharistic Adoration and Taize Prayer in celebration of Pentecost on Saturday, May 27 from 7-8pm in the church. Please see the flyer below for more information.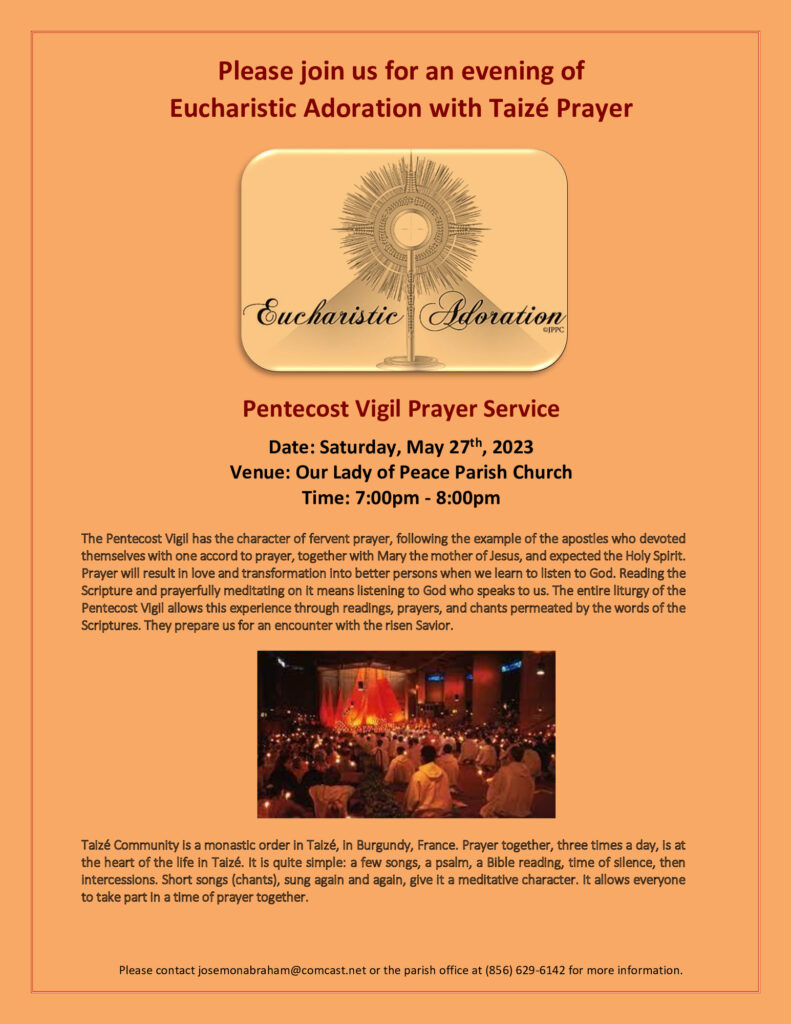 ---
Our goal: $188,900
Total raised: $100,121
Number of families: 288
---
Save the date for Vacation Bible School: July 10-14. This year's theme: "Stellar: Shine Jesus' Light." See the flyer below and for more information, please contact Julie LaRosa at vbs@olopp.org.
---
Our weekly email newsletter is released every Thursday. If you are not receiving it in your inbox, please contact the parish office or send an email to Joachim Cendana (jcendana@olopp.org) with your updated email address so you can begin receiving the newsletter.
______________________________________________________________________________________________________________________________________
**

Special note

– If you have received an email or text message from Fr. Sanjai requesting something – he has NOT sent it.   It is not from his email address or phone number. Do not respond to it. None of the priests here at the parish or any parish would be sending emails or texts out requesting anything. 
Report it as Junk or Spam
.*
*
---
The Parish has a

NEW EMERGENCY LINE

.
If you are in need of a priest in an emergency situation after parish hours
please call :  856-513-8369.
---
2022 TAX LETTERS –
If anyone is in need of a letter of their donations for their 2022 taxes, 
please call the Parish Office:
856-629-6142
__________________________________________________________________________________________________________________
SYNOD 2021-2023 UPDATE:
      During 2021 Pope Francis invited every Catholic around the world to have a say about their parish and play their part in helping to shape the life and mission of the Catholic Church. The Diocese of Camden along with the other dioceses have put together the results and a document was produced that was submitted on behalf of the archdioceses and dioceses of New Jersey and Pennsylvania.  A Synod of Bishops will meet in Rome in 2023 to discuss the results of the documents like this, produced by all the Dioceses throughout the world. This will continues Pope Francis' efforts to renew the Catholic Church in accordance with the teachings of the Second Vatican Council. "The Holy Father's aim was to involve the whole church at the parish, diocesan, national and continental levels through a process of encountering, listening and discernment on the important theme of synodality: For a synodal church: communion, participation and mission."
Please click on the links below to read about the US National Synod results as well as our our Region III.
US National Synthesis 2021-2023 Synod
Region III Synodal Synthesis_Revised_7-27
---
GOD BLESS AND THANK YOU TO ALL OUR VETERANS FOR YOUR SERVICE
           Attention All Veterans – We wish to identify and pray for ALL VETERANS in our parish and throughout the United States. 
To register with the parish center 856-629-6142 or call/text Steve Martin at 856-889-4592
---
We are now accepting multiple Mass Intentions for the Sunday 10:30am Mass as well as we have been for the Saturday 4pm Mass from now through June 2023.  Intentions will be accepted on a first-come basis. In consideration of others, requests are limited to a maximum of 5.  Announced Mass Intentions are $15.00**
---
Notice from the Diocese:
Cremation and Proper Handling of Cremated Remain
Your Choices Don't Stop With Cremation
Sadly, some of us have experienced the death of a loved one during this COVID-19 pandemic.  Many have chosen to have their loved one's remains cremated, whether by choice or necessity.  Keep in mind, the Church's teaching recommends cremated remains be given the same respect and reverence as the full body, as cremated remains are the body of the deceased in a changed form and should be given the same respect.  Cremated remains should be buried or inurned on sacred grounds.  With the pandemic affecting so many, you may not have been able to bury your loved one's remains.  It's never too late to bury cremated remains.  The staff at South Jersey Catholic Cemeteries is here to help and guide you.
When choosing cremation, there are many choices available including:
Ground Burial ,Granite or Glass Niches ,Crypts,Addition to Family Lot or Crypt in Cremation Garden
Visit SouthJerseyCatholicCemeteries.org to learn more or call us at 855-MyPrePlan (855-697-7375) and a member of our staff will gladly assist you.
"And if I go and prepare a place for you, I will come back again and take you to myself so that where I am you also may be." John 14:3
---